Ko

je onlajn?

Ko je na mreži: 13 gostiju i nema prijavljenih članova
FIFA

10 Demo - Alati
Detalji

Kategorija: FIFA 10
Datum kreiranja ponedeljak, 14 septembar 2009 21:28
Pogodaka: 4986
Po tradiciji kada izadje demo verzija nove FIFE izlazi i niz programa koji poboljšavaju mogućnosti demo verzije. Te promene su menjanje rezolucije, težine igre, dužine poluvremena, grafičkih detalja, preskakanja intro prozora itd. Ove godine tu su 3 programa: Demo Expander, Demo Raptor i X Demo Match Explorer, kao i program za brzu promenu standardnih kontrola da budu kao u FIFA 08. Možete ih preuzeti sa zvaničnih web stranica njihovih autora, a mi vam dajemo redom linkove za svaki od spomenutih programa:
Napomena: File Master 09 i DB Master 09 od prošlogodišnje FIFE rade i sa ovom demo verzijom!
Za dodatna objašnjenja i slike kliknite detaljnije...
This Demo Expander make it possible to change some settings of the FIFA 10 Demo:

- change the resolution
- change the difficulty
- change the details
- endless game on/off
- window mode on/off
- one on one on/off
- referee and linesmen visible / invisible
- Quickstart possibility
- anable substitutions
- kit selection (home/away)
- select the game speed (slower + normal)
I wasn´t sure to release it but .. It´s a classic. It´s Demo Raptor. It allows you to easily change your FIFA 10 PC Demo Game Resolution, Details, Difficulty Levels, Skip Front-End Menus and videos, quick start option, select teams, kits, etc. Get it from our Download Zone.
With 40+ options the X DEMO Match Explorer lets you expand your Demo experience.
X DEMO Match Explorer. From the basic setting (Resolution, Windowed, Game Detail) to higher (Camera Modifier, Penalty Mode, Your Cheat), X DEMO Match Explorer is a completely new expander.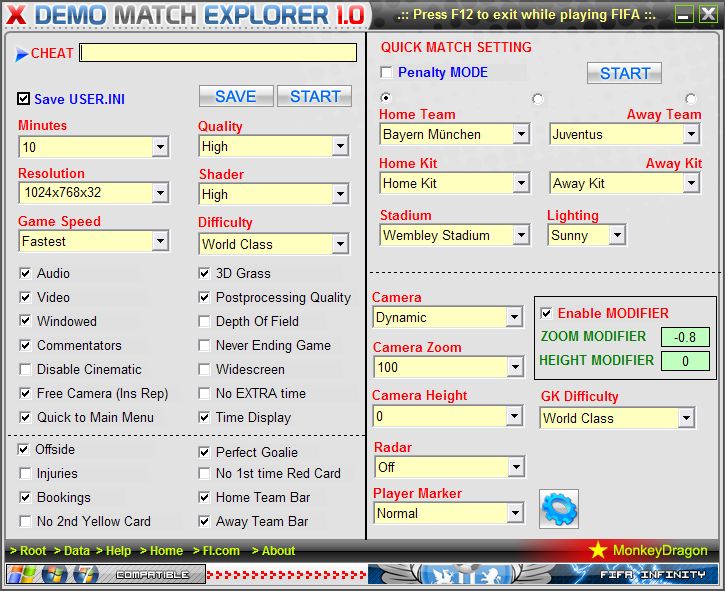 FIFA 10 Demo Keyboard Patch
Pass - S 
Through Ball/GK Charge - W 
Cross/Long Pass/Sliding Tackle - A 
Shoot/Clearance/Conservative Tackle - D 
Sprint - E 
Trigger Run/Switch Player - Q 
Pace Control - C 
Cancel/Dummy Move - Z 
Skill Move Modifier - R Shift 
Team Mentality - 5 (NumPad) 
Postanite

FSO Fan!

Da pokažemo da smo najjači u Srbiji!!
.
| | |
| --- | --- |
| | Osnivac FSO, glavni admin, webdesign, FIFA 2003-13 allround patch maker. |
---
| | |
| --- | --- |
| | Glavni admin, FIFA 12-13 patch maker. |
---
| | |
| --- | --- |
| | Kit Master/Face Editor(Rookie)/allround Graphics. |
---
| | |
| --- | --- |
| | Allround graphics, Photoshop Master. |
---
| | |
| --- | --- |
| | Allround FIFA patch maker, Face Master, FIFA-Evolution admin. |
---
| | |
| --- | --- |
| | Allround graphics, Photoshop Master |
---
| | |
| --- | --- |
| | Allround FIFA Manager patch maker. |
---
| | |
| --- | --- |
| | FIFA Manager editor. |